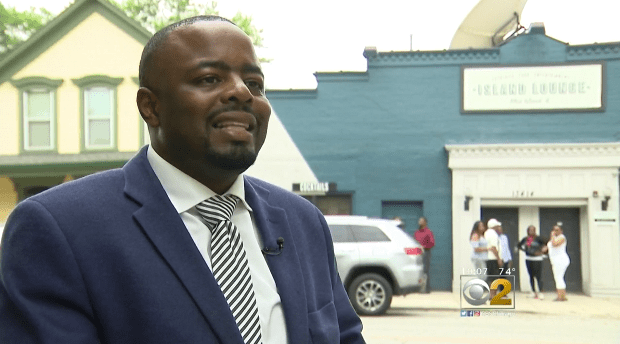 "Blue Island restaurant owner claims business was closed due to city discrimination"
Blue Island Mayor Domingo Vargas endured more than an hour of intense public criticism on three different issues Tuesday night.
Citizens and fellow elected officials lambasted Vargas over a proposed water rate increase, the city's ability to meet payroll this week and the revocation of a business license for a popular establishment.
It was a brutal chastising of an elected official, one of the more dramatic public scoldings I've witnessed in three decades of covering public meetings.
"I'm so disappointed in you," 7th Ward Ald. Nancy Thompson told Vargas. "It breaks my heart."
Thompson was among the harshest critics of Vargas during Tuesday night's Blue Island City Council meeting. Thompson, 78, who is black, publicly recounted how Vargas sought her support as a community activist before he was first elected mayor in 2013.
"When we met in (state Rep.) Bob Rita's office, I promised I'd support you if you'd support me," Thompson told Vargas. She said until recently, Vargas upheld his promise by appointing African-Americans to city positions.
"All the good things you've done you've negated with (your treatment of Adam) Shorter," Thompson said.
Shorter, 39, wears many hats. He is an elected village trustee in Matteson. He is assistant director of academic business operations at Loyola University Chicago. He serves on the Dean's Advisory Board in the College of Business at Governors State University in University Park, where he earned an MBA degree.
He's also co-owner of Redwood Luxe Bar and Grille in Olympia Fields, Red Star Cocktail Lounge in Richton Park and Island Sports Bar & Grill, 13414 Old Western Ave., Blue Island.
Island Sports Bar & Grill opened six years ago. It closed about two months ago when Blue Island revoked its business license, creating uncertainty for more than 40 employees. The revocation followed a March 30 shooting outside the restaurant, according to city officials.
Elected officials from other towns where Shorter operates restaurants said he is an outstanding business owner who creates jobs and provides opportunities for employees.
"Adam has been devoted to the community," Matteson Clerk Yumeka Brown said. "I feel he was not given a fair hearing here."
"It's hard to replace a business with the economy the way it is," Olympia Fields Trustee Cassandra J. Matz said. "I wouldn't chase away business."
Shorter and his attorney, Blake Horwitz, criticized Vargas for presiding over the license revocation proceedings. They accused Vargas and City Attorney Cary Horvath of prolonging the establishment's fate by continuing the proceedings for several weeks.
"These proceedings have gone on way too long," Shorter said. He asked for a decision one way or the other so he could move on to the next step — an appeal.
Horwitz, a leading civil rights attorney, told Vargas that he created "the appearance of impropriety" throughout the proceedings.
"You're treading on some very delicate ground, counsel," Vargas, an attorney, told Horwitz.
"Are you threatening me?" Horwitz responded.
Ald. Nancy Rita moved to reinstate Shorter's business license, and the gallery of dozens of supporters erupted in cheers. Vargas seemed to lose patience with the audience interruption. He banged his gavel and threatened to have people removed from council chambers.
"I'll get you out of here," Vargas told the crowd. He ruled that Rita's motion was out of order.
Blue Island's 14-member council was scheduled to decide whether to uphold the revocation of the business license. But Horvath provided aldermen with electronic copies of the record of proceedings and said they needed time to review them. A special meeting was scheduled for 7 p.m. Tuesday to decide the issue.
Another issue that provided fireworks was whether Vargas was authorized to approve fund transfers that will determine whether police officers, firefighters and other city workers will be paid on Friday.
Vargas last week fired Lori Brown, deputy finance director. Brown was authorized to verify fund transfers at Beverly Bank & Trust, where Blue Island keeps municipal funds.
City Treasurer Carmine Bilotto said the city would be unable to make payroll because Vargas fired Brown.
"There are checks and balances," Bilotto said.
Ald. Kevin Donahue, manager of governmental initiatives, policy and planning for the Illinois Tollway, told me late Wednesday that Brown had the same authority as former general counsel Andrea Trucco, who was fired by Vargas last year.
"The mayor and treasurer are authorized to make fund transfers," Donahue said. "But when the bank wires the money to (the payroll distributor), we need a person who can confirm the transfer."
No one is currently authorized to confirm the wire transfer, Donahue said. The mayor alone cannot bestow someone with that authority, he said. The city council must approve new designees to confirm transactions, he said.
"I still believe the city's not going to be able to make payroll," he said.
Vargas and Horvath disputed assertions by Bilotto and aldermen that the city would be unable to make payroll, but Horvath later conceded he didn't know for sure.
I reached out to Vargas Wednesday to seek his reaction to the intense criticism he faced, but I did not receive a response to a message I left for him at City Hall.
Confusion over whether the city could pay employees this week seemed to frustrate residents, who earlier complained about the city's plan to raise water rates.
During a presentation to the finance committee and committee of the whole on June 5, Finance Director Mike Marzal said Blue Island's water fund would run out of money in November if rates are not increased.
"We are literally living paycheck to paycheck," Marzal said.
Marzal said Blue Island's rate of $8.26 per 1,000 gallons was lower than all surrounding communities except Alsip. He said one option is for the council to approve a rate hike of about 25 percent, or $2.06 per 1,000 gallons.
Another option, he said, is that the city could raise rates by nearly 20 percent, or by $1.63 per 1,000 gallons, without council approval. That's because the council in 2006 authorized administrators to pass along rate increases equal to annual hikes by the city of Chicago and the Consumer Price Index.
Blue Island hasn't raised water rates for three years, he said.
Tuesday night, some speakers criticized Vargas and the council for not doing a better job informing residents of the planned rate increase.
"This was talked about extensively last fall," resident Mark Kuehner said. "There are a lot of folks on fixed incomes, people who have had no raises, a lot of abandoned homes in Blue Island."
The council's municipal services committee is set to discuss the proposed water rate hike on June 26.