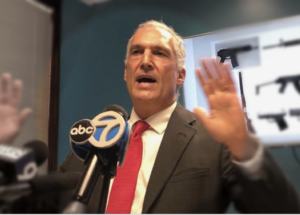 Blake Horwitz is one of Chicago's leading civil rights trial lawyers. He has prosecuted over 400 federal claims and brought over 30 cases to trial. One of his most notable victories resulted in a $28,000,000 verdict against the City of Chicago, the largest police misconduct verdict of its kind in the Midwest. With over 25 years of trial experience in both Federal and state courts, Mr. Horwitz has a wealth of experience in complex litigation and the will to fight and win on behalf of his clients.
​Mr. Horwitz is especially proud of his successes in battling municipal corruption and wrongdoing. Through his litigation of Seipler v. McHenry County, Mr. Horwitz effectively put an end to racial profiling in the issuing of traffic tickets by the Mchenry County Sheriff's Department. In Anderson  v. Village of Stone Park, he forced the Village of Stone Park to cease an illegal sting operation that had resulted in the arrest of nearly 900 innocent men wrongfully accused of soliciting a prostitute. By filing twelve police misconduct lawsuits in a single day against the City of Blue Island, Mr. Horwitz helped bring about a pronounced reduction in police abuse by the Village of Blue Island, against its citizens.
​However, the work at The Blake Horwitz law firm does not stop at civil rights.  Based on client demand, Mr. Horwitz and his team of lawyers represent individuals in many different areas: criminal, family matters, worker's compensation, injury cases and many others.  Mr. Horwitz's goal is to provide the best, personalized legal service available, utilizing the the specialized skills of his team of attorneys.
Email: bhorwitz@bhlfattorneys.com
_____________________________________________________________________________
News reports on some of Mr. Horwitz high profile work can be found here:
The Chicago Tribune, "Nurse says she was fired by Northwestern Memorial Hospital after warning co-workers that face masks being used were ineffective"
Chicago Tribune, "$28 Million Awarded in Police Chase"
The Chicago Tribune, ""Naperville set to approve $430k settlement for Cicero official who alleges cops used excessive force in her 2013 arrest"
The Chicago Sun Times, "Nurse says Northwestern Memorial fired her over wanting better face masks"

The Washington Post

, "As Coronavirus Spreads, So Do Reports of Companies Mistreating Workers"
The Daily Herald, "Hospitals tell doctors they'll be fired if they speak out about the lack of gear"
The New York Times, "I Do Fear for My Staff, a Doctor Said. He Lost His Job"
Reuters News, "Nurse says Chicago hospital fired her for warning about COVID-19 masks – lawsuit"

NBC 5 Chicago

, "Chicago Nurse's Lawsuit Alleges She Was Fired For Warning About 'Ineffective' COVID-19 Masks"
ABC 7 Chicago, "Nurse's lawsuit alleges Northwestern Memorial Hospital fired her for warning about 'ineffective' COVID-19 masks"
Fox 32 Chicago, "Lawsuit alleges nurse was fired for warning about 'ineffective' masks used for treating COVID-19"
The Evanston Patch, "Nurse Fired After Warning Staff Of Coronavirus Mask Safety: Suit"
The Associate Press, "Nurse Says Chicago Hospital Fired Her for Warning About Masks"
Becker's Hospital Review, "Nurse sues Northwestern Memorial, claims she was fired for warning about less effective face masks"
Law360, "Nurse Allegedly Fired For Warning About COVID-19 Masks"
ABA Journal, "As exposed health care workers seek legal remedies, who is liable for lack of personal protective equipment?"
New York Daily News, "Health care workers warned they could lose jobs for speaking out amid coronavirus crisis"
Chicago Crain Business, "Doctors and nurses beware: Hospitals are watching your Facebook"
ABC Local News, "Former Circle Academy TA accused of having sex with student"
NBC Local News "Former educator accused of sexually assaulting teen student"
Fox Local News, "Mother files civil suit against Cunningham Children's Home and Circle Academy"

The Chicago Tribune

, "Student suing Barrington School District alleging sexual abuse by teacher nearly 20 years ago"
The Daily Herald, "Lawsuit alleges abuse by former District 220 teacher"
The Barrington Patch, "Barrington Teacher Sexually Abused Former Student: Lawsuit"
Chicago Law Bulletin, "Chicago Archdiocese Pays $8 Million to Settle Abuse Case Out of Court"
Chicago Sun Times, "Lawyer says $8 million settlement reached with Chicago Archdiocese over priest abuse"

Chicago Sun Times

, "The N-Word Started it Lawyer Says of Fatal Shooting by Cops"
Chicago Sun Times, "Chicago needs answers to the deadly Wild West melee in Mount Greenwood"
Chicago Sun Times, "Chicago cops set for trial will likely see fellow officers testify against them"
Chicago Tribune, "Charges dropped against brother of man killed by police in Mount Greenwood neighborhood"
Chicago Tribune, "Officer fatally shoots man after road rage incident in Mount Greenwood"
Chicago Reader, "Sixteen months after cops killed Joshua Beal, still no ruling on whether the shooting was justified"
Chicago Reader, "Inauguration barhopping in Chicago's most pro-Trump neighborhood"
WGN News, "2 Chicago cops cleared in 2016 shooting death of Joshua Beal in Mount Greenwood"

NBC Chicago

, "COPA Clears Officers in Controversial Shooting Death of Joshua Beal"
WBEZ, "Chicago Police Officer Cleared In Shooting Used Unregistered Gun"
WBEZ, "Attorney Blasts Chicago Investigation Into 'Racially Charged' Police Shooting"
DNA Info, "911 Calls, Videos Show Frantic Scene Of Joshua Beal Shooting"
CBS Local News, "Chicago Police Officers Cleared In 2016 Shooting Death Of Joshua Beal In Mount Greenwood"
Chicago Tribune,

"Jury Awards Paralyzed Man $28 Million"