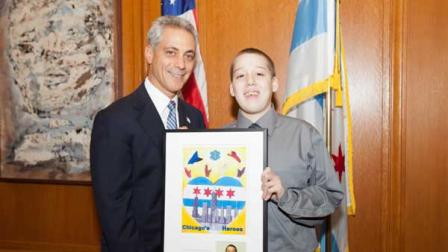 Chicago city clerk scraps sticker design amid gang concerns
February 8, 2012
By: John Byrne and Jeremy Gorner             Chicago Tribune
A 15-year-old boy will lose the honor of seeing his city sticker design adorn Chicago windshields amid questions about whether the artwork contains gang symbols, City Clerk Susana Mendoza said this afternoon. At a City Hall news conference, Mendoza said she made the decision to change the design.
The boy's artwork shows four hands reaching upward toward symbols of Chicago police, firefighters and paramedics. But Mendoza said the position of the hands "could be misinterpreted" as gang signs.
The city instead will use a design by Caitlin Henehan, a senior at Resurrection High School and the first runner-up in the city's contest. It depicts a firefighter, police officer and paramedic as superheroes.
Mendoza said it would not have been fair to allow the boy to redesign his sticker art to change the position of the hands because other entrants would not have gotten the same chance. She said no decision has been made on whether the 15-year-old boy will be asked to return the $i,000 bond he won.
Hours earlier, the boy's mother fought back tears as she denied the allegations. Since they became public Tuesday, the boy has suffered anxiety attacks and couldn't sleep last night, according to his mother and their lawyer.
"I am very upset. I feel very upset that something so positive could be so negative," Jessica Loor told reporters crammed inside a classroom at Lawrence Hall Youth Services, where the boy attends school. "I feel there's a lot of haters. They can make anything out of anything."
Attorney Blake Horwitz, who is representing the family, demanded an apology from Jody Weis, the former Chicago police superintendent and now president of the Chicago Crime Commission, who said Tuesday that the hands in the drawing seemed consistent with gang signs.
"Now this is a bunch of nonsense being blown way out of proportion," said Horwitz, describing the boy as a "special needs" child who is on the honor roll.
The teen said his mother and his school, Lawrence Hall Youth Services, were helping him improve his academic performance. He said he was honoring firefighters because they rescued him when he was 4 and had lit his clothes on fire with a candle.