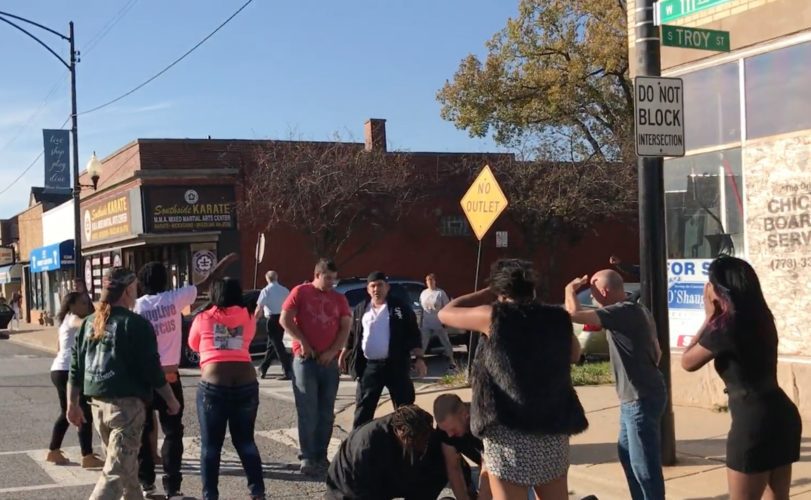 On July 25, 2017, The Blake Horwitz Law Firm filed suit against the City of Chicago and several police officers on behalf of Ashley Phifer and her two children for the deadly shooting of Joshua Beal by two off-duty Chicago police officers.  On November 5, 2016, Mr. Beal and his fiancé, Ms. Phifer, were on their way to visit a sick relative in the hospital. They, and several other mourners, were leaving from a funeral. Yet trouble began once the funeral procession, composed entirely of African Americans, entered Mount Greenwood—a notoriously racist neighborhood on Chicago's Southwest Side.
As reported by the Chicago Tribune, upon leaving the funeral, a heated road rage incident transpired between funeral procession members and off-duty police officer Joseph Treacy. Traffic then stopped outside of the fire station on 111th Street, where a firefighter began shouting racial slurs at the funeral procession.
As the Chicago Sun Times describes, this racist confrontation quickly escalated into an all-out melee. Officer Treacy, who was not in uniform, began pointing his handgun at unarmed women and children as he hurled slurs at the group. Meanwhile, another off-duty officer, Thomas Derouin—who was also not in uniform—approached the scene.
Statements conflict as to whether either officer ever identified themselves as police officers. However, as the Chicago Reader notes, Officer Treacy undeniably called 911 and told the dispatcher, "send the police . . . before someone gets shot." When Mr. Beal saw Officer Treacy pointing a gun at his 17-year-old female cousin, he retrieved his legally owned firearm from his car. From there, Officer Treacy and Sergeant Derouin shot Beal multiple times, ultimately killing him.
As reported by WBEZ, Chicago's Civilian Office of Police Accountability ("COPA") described the shooting as racially charged while also somehow finding that it was justified. Yet COPA also recommended that Officer Treacy serve a 90-day suspension since the gun he used to kill Mr. Beal was unregistered with the Chicago Police Department. COPA failed to mention that Treacy possessed at least eight other unregistered firearms, including an AR-15. As the Chicago Sun Times notes in another article, Treacy has since been removed from his police duties based on his connection to a federal investigation involving Chicago police officers stealing drugs and money through illegal searches.
By representing Ms. Phifer as well as her and Mr. Beal's two children, The Blake Horwitz Law Firm seeks justice for Joshua Beal for his unjustified killing by Chicago police officers.
If you or someone you know shares a similar story as Ashley Phifer or Joshua Beal, contact The Blake Horwitz Law Firm at (312) 676-2100 or office@bhlfattorneys.com.
Read more about this lawsuit below:
Chicago Sun Times

, "The N-Word Started it Lawyer Says of Fatal Shooting by Cops"
Chicago Sun Times, "Chicago needs answers to the deadly Wild West melee in Mount Greenwood"
Chicago Sun Times, "Chicago cops set for trial will likely see fellow officers testify against them"
Chicago Tribune, "Charges dropped against brother of man killed by police in Mount Greenwood neighborhood"
Chicago Tribune, "Officer fatally shoots man after road rage incident in Mount Greenwood"
Chicago Reader, "Sixteen months after cops killed Joshua Beal, still no ruling on whether the shooting was justified"
Chicago Reader, "Inauguration barhopping in Chicago's most pro-Trump neighborhood"
WGN News, "2 Chicago cops cleared in 2016 shooting death of Joshua Beal in Mount Greenwood"

NBC Chicago

, "COPA Clears Officers in Controversial Shooting Death of Joshua Beal"
WBEZ, "Chicago Police Officer Cleared In Shooting Used Unregistered Gun"
WBEZ, "Attorney Blasts Chicago Investigation Into 'Racially Charged' Police Shooting"
DNA Info, "911 Calls, Videos Show Frantic Scene Of Joshua Beal Shooting"
CBS Local News, "Chicago Police Officers Cleared In 2016 Shooting Death Of Joshua Beal In Mount Greenwood"