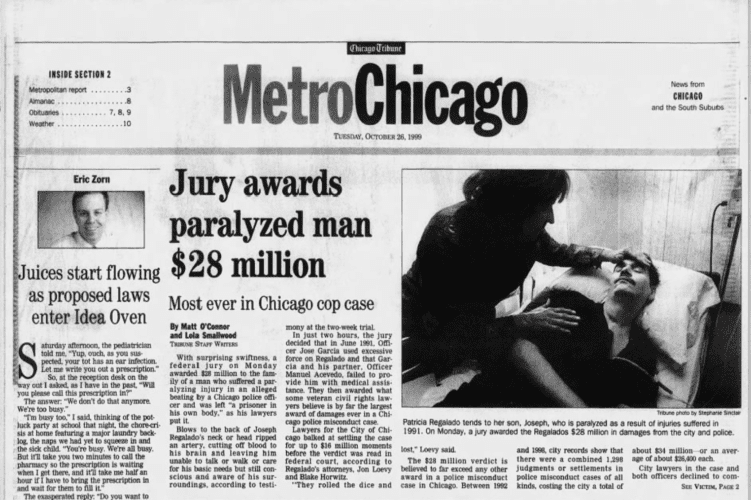 In 1999, attorney Blake Horwitz won a verdict from a federal jury awarding Joseph Regalado $28 million for debilitating injuries he suffered from Chicago police officers—this was and remains the largest verdict ever obtained against the City of Chicago for police brutality and excessive force.
As originally reported by the Chicago Tribune, it all started with an argument between Mr. Regalado and his girlfriend. Eventually, Chicago police showed up, and Mr. Regalado—who at the time had an outstanding warrant for unpaid traffic tickets—ran. After a short foot pursuit, an officer eventually caught up to Mr. Regalado.
From there, the officer's and a nearby witness's testimony vastly differed. According to the officer, Mr. Regalado fell. Yet the witness claimed to have seen the officer assault Mr. Regalado by striking him multiple times in the back of the head with either a baton or flashlight. The officer then put his knee into Mr. Regalado's back and struck him across the face.
Mr. Regalado's injuries were catastrophic. He suffered a torn artery in the back of his neck, which cut off blood to his brain and caused a stroke. He then went over 15 hours without medical attention, which contributed to his severe brain damage. Mr. Regalado ended up paralyzed, only able to respond to basic yes or no questions by blinking.
Although Mr. Regalado's life-altering injuries will always remain, this verdict is the closest thing to justice he may ever receive. To this day, The Blake Horwitz Law Firm continues to fight on behalf of individuals like Mr. Regalado who have been wrongfully abused by police officers.
If you or someone you know share a similar story as Mr. Regalado, contact The Blake Horwitz Law Firm at (312) 676-2100 or office@bhlfattorneys.com.
Read more about this lawsuit below: