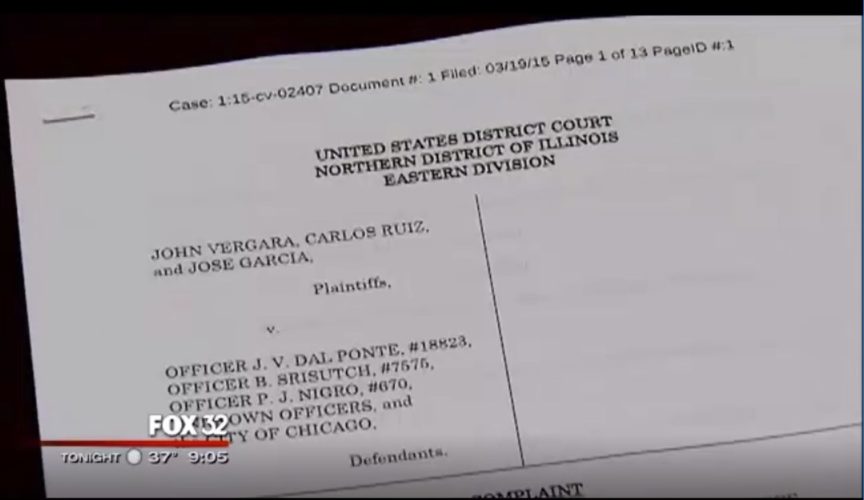 March 20, 2015
by: Spencer Ackerman and Jenn Stanley              The Guardian
Chicago police officers followed and yelled "that they were watching" two men whom they "essentially kidnapped" at Homan Square, according to the first federal civil-rights lawsuit to stem from a cascade of allegations about the secretive compound.
In a suit filed against the city of Chicago late on Thursday night, John Vergara and Jose Garcia charge that police "knowingly and intentionally schemed and worked together in a common plan to falsely arrest, illegally detain, and physically abuse" them – without cause, charge, arrest, or access to an attorney – before they were ultimately released from Homan Square in September 2011.
Along with co-plaintiff Carlos Ruiz, Vergara and Garcia describe harassment and intimidation by officers that continued after their eight- to nine-hour incommunicado detention, first reported by the Guardian on 4 March, which they allege was designed to ensure the three Chicagoans did not pursue legal action. The men are now suing for violations of the US constitutional prohibition on unreasonable searches and seizures.
"Until publication of details about Homan Square in the Guardian newspaper, plaintiffs relied on the defendant officers' threats and did not speak to attorneys about their experience at Homan Square because they were afraid of police and concerned for the safety of their families," the lawsuit states.
The lawsuit is the first filed on behalf of Homan Square victims against the Chicago police since the Guardian exposed stories from inside Homan Square on 24 February. It charges that police tactics at the police warehouse likened by attorneys and activists to the domestic equivalent of a CIA "black site" have "gone unchecked" and resulted from an atmosphere of "deliberate indifference to an obvious need, and in a manner that shocks the conscience".
Vergara and Ruiz told the Guardian earlier this month that officers wearing ski masks took them to Homan Square after raiding the Paseo Boricua Grocery & Deli, guns drawn in Chicago's largely Puerto Rican Humboldt Park neighborhood.
"The innocent civilians brought to Homan Square were physically seized and essentially kidnapped by unidentified officers, placed in police vehicles, and driven to a then-secret location," the suit rads.
At the warehouse, the men, Ruiz and two others were handcuffed to a metal bar – and to one another – for nearly nine hours until Vergara threatened to inform attorney Blake Horwitz what the police were doing.
Once confronted with a threat of legal action, Vergara and Ruiz told the Guardian, the officers offered Vergara a deal: he and the others – save deli operator Eddie Calderon, who later faced drug charges – could go free, provided they never tell a lawyer about their ordeal at Homan Square.
"If you're going to tell Blake, I'm going to pin a case on you and everybody else in here," the lawsuit quotes the officers telling Vergara, who took the deal under what the suit calls police threats and intimidation.
That intimidation did not end after their release, the lawsuit alleges. "On a daily basis," the suit claims, the officers drove past the Paseo Boricua Grocery & Deli and "yelled from their police cars that they were watching plaintiffs".
The suit comes shortly after the Guardian reported that the chief of the Chicago police department's organized crime unit – a major unit operating out of Homan Square responsible for combating gangs, drugs and vice – quietly resigned from the force last week. On Thursday night, Chicago police spokesperson Marty Maloney emailed the Guardian to claim that Nicholas Roti's retirement was "in the works for some time" and that Roti has now joined the Illinois State Police.
The Chicago police continue to deny any misconduct at Homan Square, despite the first-hand accounts of 11 people thus far who have told the Guardian consistent stories of police holding them off-the-books at the facility for hours; denying them access to phone calls and legal counsel; often handcuffing them to a bar behind a bench in cell-like rooms; and in some cases, inflicting physical pain.
In several cases, people formerly detained at Homan Square described officers offering them freedom in exchange for information on others or providing them with guns.
While the Chicago police have said rules about documenting arrestees at police stations apply at Homan Square, Horwitz said at a press conference announcing the lawsuit on Friday that he expected there would be "no documentation referable" to his clients' arrest.
"You'll find in these Homan Square incidents that on many occasions there will be no paper, no documentation whatsoever of arresting people," Horwitz said.