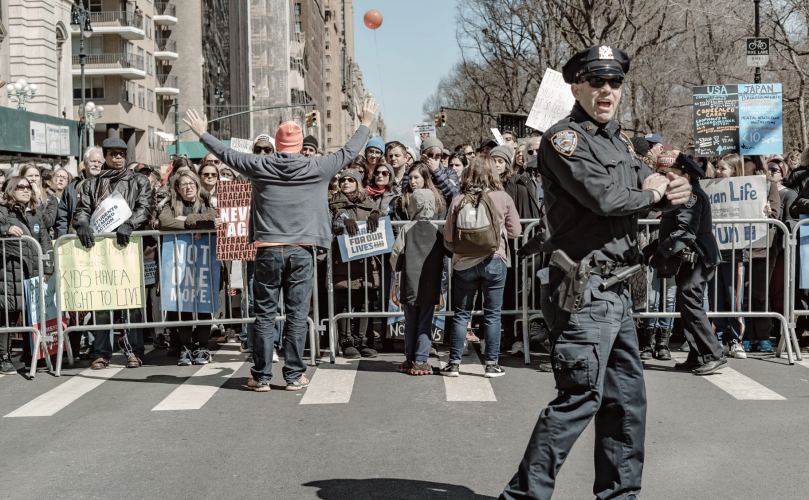 Chicago police officers followed and yelled "that they were watching" two men whom they "essentially kidnapped" at Homan Square, according to the first federal civil-rights lawsuit to stem from a cascade of allegations about the secretive compound.
In a suit filed against the city of Chicago late on Thursday night, John Vergara and Jose Garcia charge that police "knowingly and intentionally schemed and worked together in a common plan to falsely arrest, illegally detain, and physically abuse" them – without cause, charge, arrest, or access to an attorney – before they were ultimately released from Homan Square in September 2011.
Along with co-plaintiff Carlos Ruiz, Vergara and Garcia describe harassment and intimidation by officers that continued after their eight- to nine-hour incommunicado detention, first reported by the Guardian on 4 March, which they allege was designed to ensure the three Chicagoans did not pursue legal action. The men are now suing for violations of the US constitutional prohibition on unreasonable searches and seizures.
"Until publication of details about Homan Square in the Guardian newspaper, plaintiffs relied on the defendant officers' threats and did not speak to attorneys about their experience at Homan Square because they were afraid of police and concerned for the safety of their families," the lawsuit states.
The lawsuit is the first filed on behalf of Homan Square victims against the Chicago police since the Guardian exposed stories from inside Homan Square on 24 February. It charges that police tactics at the police warehouse likened by attorneys and activists to the domestic equivalent of a CIA "black site" have "gone unchecked" and resulted from an atmosphere of "deliberate indifference to an obvious need, and in a manner that shocks the conscience".
Vergara and Ruiz told the Guardian earlier this month that officers wearing ski masks took them to Homan Square after raiding the Paseo Boricua Grocery & Deli, guns drawn in Chicago's largely Puerto Rican Humboldt Park neighborhood.